A Sub-Committee of the Greater Liverpool Chamber of Commerce
Gwen McCarroll: Chair
Email: LITPCONCERTS@GMAIL.COM
Liverpool is the Place (LITP) is a sub-committee of the Greater Liverpool Chamber of Commerce. The purpose of LITP is to present cultural events, encourage sponsorship of these events, raise funds for programming and to bring together all ages and people of varied interest to the community of Greater Liverpool. LITP runs the summer concert series in Johnson Park, as well as the concerts in the Library.
---
NEXT SHOW:
The Doyle-Whiting Band will be here on June 5th from 7:00pm to 9:00pm
Click the photos below to view messages from the upcoming bands!
The After Six Quintet is here on July 7th from 7:00pm until 9:00pm Band sponsored by Dollars for Scholars.
The Fab Cats are here on June 12th from 7:00pm to 9:00pm. Band sponsored by Maurer Funeral Home
The average attendance -400 people-2023 Season Starts Monday, June 5th and ends Wednesday, August 16, 2023. Every Monday and Wednesday at 7 PM. PLEASE CALL 315-457-3895 starting at 6 pm for rain cancellation.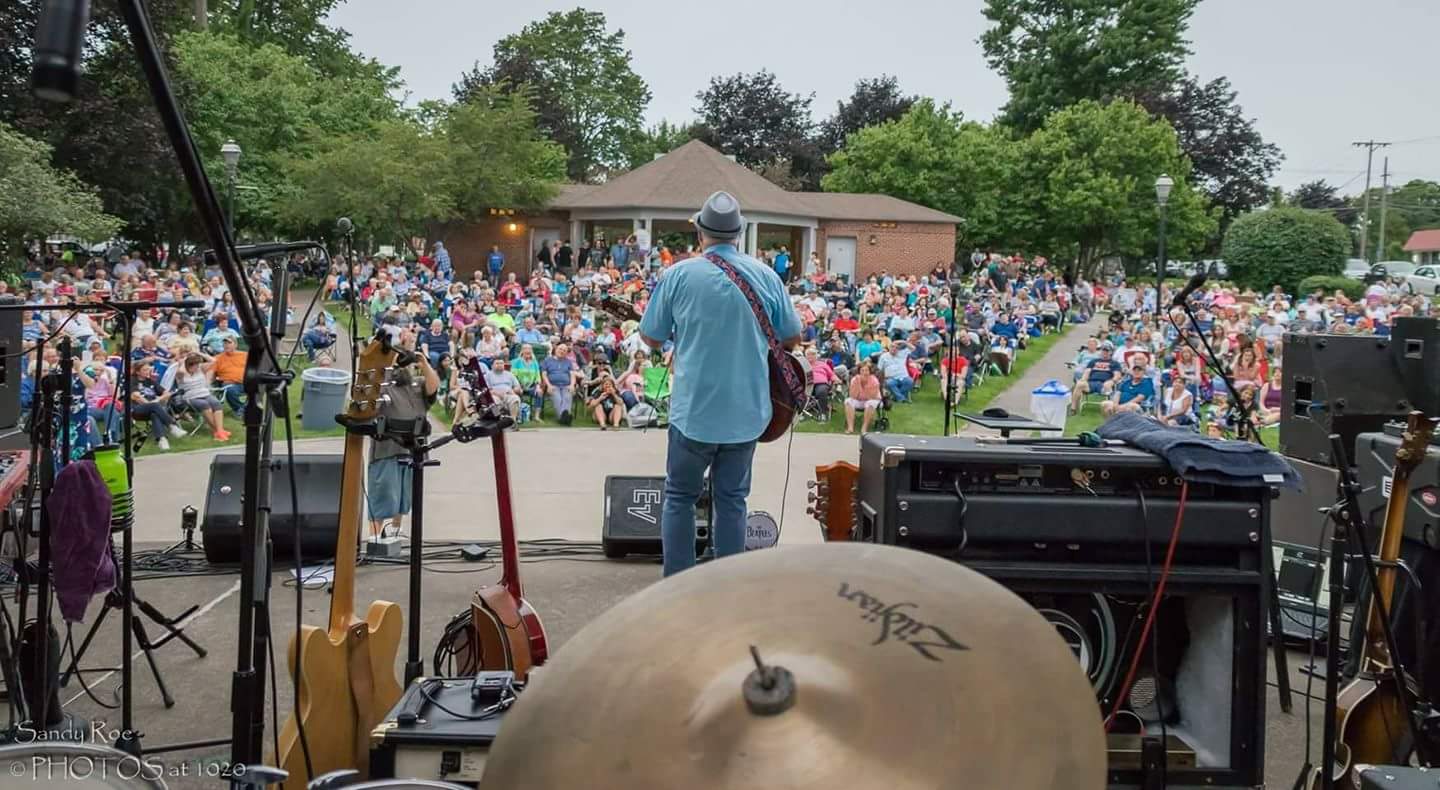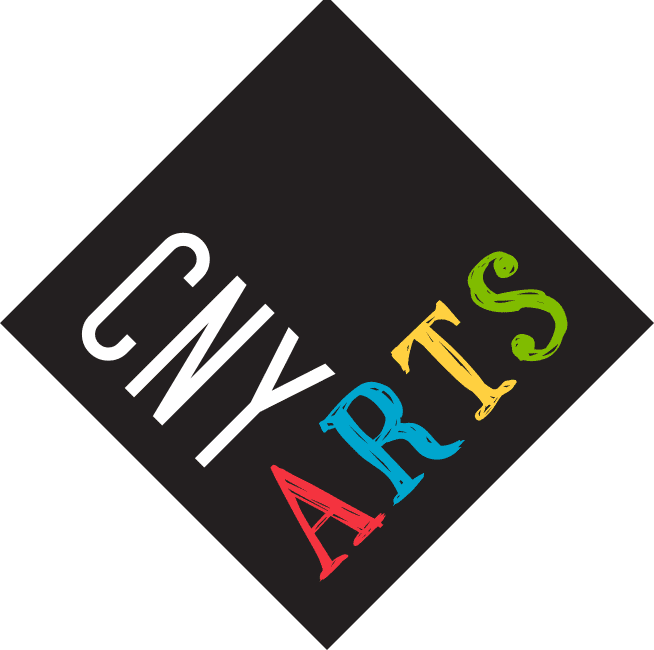 The concert series is made possible only through funding from grants like CNY Arts, private donations, and via local business sponsorships. Help us to continue bringing Music to our community. Contact Gwen McCarroll 315-491-4188 or Colleen Gunnip 315-652-5029 for our Sponsorship Opportunities. We also welcome any volunteers to help run the shows each Monday and Wednesday. Contact the Chamber to find out how to help.
We are pleased to present the lineup for the 2023 Concert series!
(CLICK ANYWHERE ON THE SCHEDULE TO VIEW AND/OR DOWNLOAD THE PDF SCHEDULE
WITH LINKS TO OUR SPONSOR WEBSITES)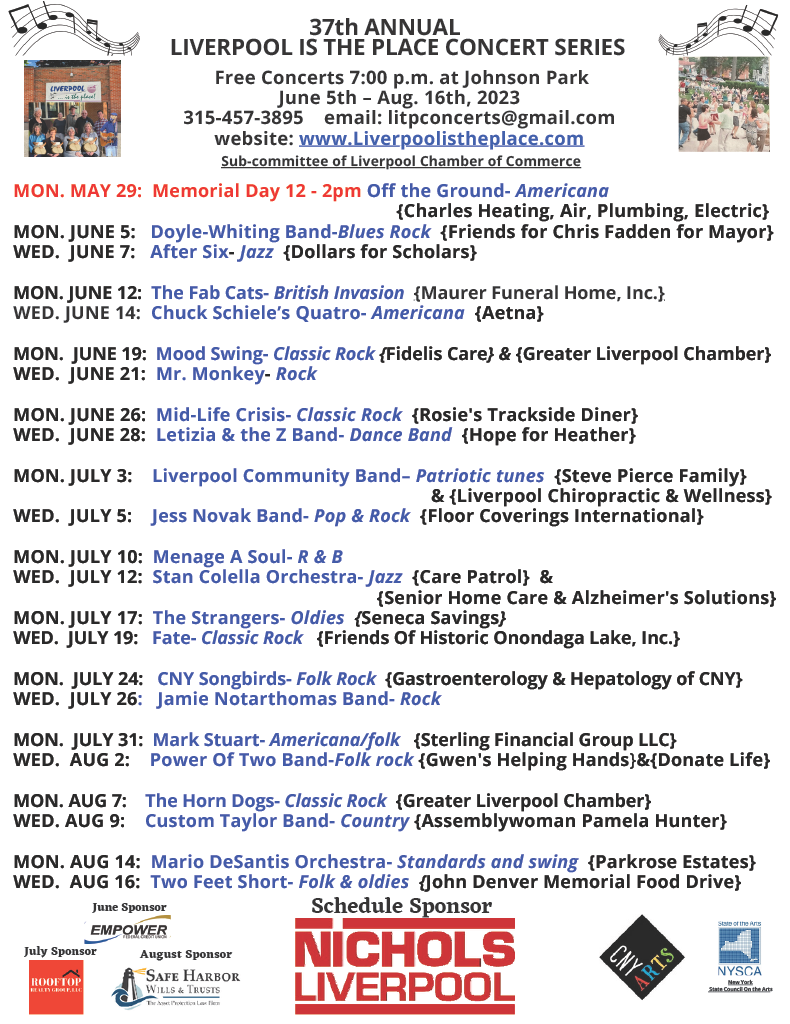 THANK YOU TO OUR 2023 SCHEDULE SPONSOR: (CLICK LINK TO VISIT WEBSITE) NICHOLS FRESH MARKET, LIVERPOOL, NY
THANK YOU TO OUR JUNE PRESENTING SPONSOR: (CLICK LINK TO VISIT WEBSITE.). EMPOWER FEDERAL CREDIT UNION
THANK YOU TO OUR JULY PRESENTING SPONSOR: (CLICK LINK TO VISIT WEBSITE.) ROOFTOP REALTY GROUP
THANK YOU TO OUR AUGUST PRESENTING SPONSOR: (CLICK LINK TO VISIT WEBSITE.) SAFE HARBOR WILLS AND TRUSTS
2023 LITP Webpage Sponsor:
HOUSECALLS HANDYMAN SERVICE (315)491-4386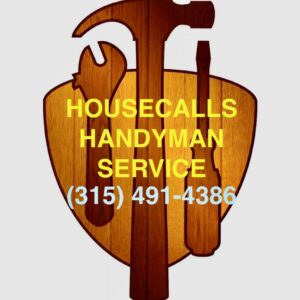 http://www.facebook.com/housecallshandymanservice
2023 Season STARTS Monday, June 7 and ENDS Wednesday, August 16
Venue
Johnson Park-Every Monday and Wednesday evenings.
Address
Tulip & Second Street
Liverpool NY 13088, US
Starts
7:00 pm
Ends
9:00 pm